Good Morning, Patriot:
The Hoosier Patriots Monday Morning Newswire for February 1, 2016 is attached for your review. Feel free to forward it to your lists or copy to those who would be interested in the commentary. I hope you enjoy this issue and have a great week!
We are ALL in this together...
God Bless America!
Jim Bratten
Director, Hoosier Patriots

"If ever a time should come, when vain and aspiring men shall possess the highest seats in Government, our country will stand in need of its experienced patriots to prevent its ruin." ~ Samuel Adams, 1776
Patriots:
Our VC-TPP meeting at Red Bank Library on Saturday, 1/23 is cancelled due to weather.
My apologies; the viewing of The Free Speech Apocalypse will be rescheduled.
V
anderburgh County Tea Party Patriots general membership meeting January 23rd will be at the Evansville Public Library, Red Bank Branch, 120 S. Red Bank Road, in the Howard Room at 1:00 p.m. This meeting will feature the film The Free Speech Apocalypse, directed by Darren Doane (Colli
sion and Unstoppable). A 95-minute documentary that highlights our cultural decay, The Free Speech Apocalypse clearly demonstrates the erosion of free speech and religious liberty in America. It begins with the April 13, 2012 confrontation between IU students and Pastor Douglas Wilson (who was lecturing on traditional marriage and family) at the University of Indiana.
​ This documentary will alert you to what we face in the days ahead. In Indiana we must confront a Republican majority Senate and a Republican majority House, both with leadership eager to please those who are intolerant of Hoosiers who only wish to exercise their God-given right to religious liberty. Freedoms once taken as assured are under regular attack.
Liberty Alliance called this "The most explosive documentary I've ever seen."
Everyone is welcome to attend!
REMINDER Tomorrow 6:30 pm !!!!
A TIMELY LOCAL OPPORTUNITY TO BETTER UNDERSTAND AND LEARN HOW TO RESPOND TO ISLAM!
WILLIAM J. FEDERER is a nationally known speaker, historian, and best-selling author, dedicated to researching America's noble Christian heritage, will be speaking live at a special "THINGS THAT MATTER" event on Monday 14 December at 6:30 PM.. His topic will be: "UNDERSTANDING AND RESPONDING TO ISLAM".
We have utilized Mr. Federer's materials in the first three lessons of the "UNDERSTANDING AND RESPONDING TO ISLAM CLASS" that many of you have attended.
Location: Join us in Newburgh, IN on the Trinity Seminary campus in the Dr. Thomas Rodgers Building, the Home of Providence Church and Newburgh Christian School, for this opportunity to learn the ways you can better understand and respond to Islam.
4156 Old S.R. 261, Newburgh, IN 47630, located on the East side of Hwy 261 just south of the Lloyd Expressway.
Time: Monday 14 December at 6:30 PM.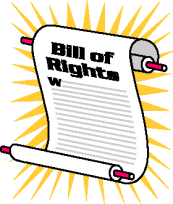 Saturday December 12th, Bill Of Rights Day Celebration in Evansville.
The event will be held at the Evansville Central Library 200 SE Martin Luther King Jr Blvd, from 10:00 til Noon. Admission is free.
WILLIAM J. FEDERER a nationally known speaker, historian, and best-selling author, dedicated to researching America's noble Christian heritage will be the featured speaker for the event.
Everyone is welcome.
Attached below is the program.
Placing courts over the Constitution
14th Amendment distortion

The Fourteenth Amendment to the U.S. Constitution has been abused more than any other – by our own court system. It has been misused by our courts for "equal protection under the law" and other reasons. No mention
of the concept of "birthright citizenship" is found in this amendment, but many legal scholars continue to misinterpret it, using supreme court rulings to redefine the amendment to fit their desires.

Yet the idea has been imbedded in the public discourse, forced into the lexicon of immigration activists for decades, so much so that one would think it was based in the authors' intent for the amendment.
The Emancipation Proclamation of 1863 freed slaves but did not assure them the same "equal" rights as those who had freed them, even though they were in the U.S. legally and "subject to the jurisdiction thereof." The Civil Rights Act of 1866 was written to rectify the oversight. At the time of its passage, the 1866 act defined the phrase, "persons within the jurisdiction of the United States," as those present in the United States at the time of the act's passage,
born here, which included all slaves and their children, subject to U.S. law.

The 14th Amendment was designed to protect the provisions of the 1866 act from future legislatures and activist courts. If the amendment means what it says, as its authors intended and as was ratified by the states, instead of the misconstrued meaning given it today, then we need to discern the intent of its authors.
Republican Senator Jacob Howard of Michigan was one author of Section 1 of the 14th Amendment (the Citizenship Clause). In his notes of May 30, 1866 he clearly stated his intent for the amendment he helped compose:

"Every person born within the limits of the United States, and subject to their jurisdiction, is by virtue of natural law and national law a citizen of the United States. This will not, of course, include persons born in the United States who are foreigners, aliens, who belong to the families of ambassadors or foreign ministers accredited to the government of the United States…"

The second author of the Citizenship Clause in the 14th Amendment, Illinois Senator Lyman Trumbull, reinforced the
intent of Howard by stating that "subject to the jurisdiction of the United States" meant "not owing allegiance to anyone else" as in other nations.

Since those here illegally are still subject to the jurisdictions of their home countries, as foreigners or aliens, they cannot be subject to the jurisdiction of the U.S. Hence their children, born here illegally, are subject to the jurisdiction of their parents' home country, not citizens of the U.S. by "birthright." Those children who are born to parents here legally, having no allegiance to a foreign power, are born citizens of the U.S.

The framers of the Civil Rights Act of 1866 and the 14th Amendment, passed July 9, 1868, used very plain language. Their position, as of those who defend their intent today, is not an "extreme position." The intent of the 14th Amendment must be restored.
The "birthright citizenship" crowd fails to comprehend that immigration is for the benefit of the country, as a unified nation with legal immigrants assimilated as Americans. It's not for the illegal alien, a citizen of another nation, a foreign nation.
Our nation cannot continue as a balkanized, open-borders welfare state. As Milton Friedman reminded us, "If you have a welfare state and want open immigration as practiced prior to 1914, that's impossible. A welfare state and an open border cannot coexist. If this occurs, the nation fails."
© 2015 - J. M. Bratten, Hoosier Patriots
 Reprinted from the Hoosier Patriots Monday Morning Newswire 8/24/15
Patriots:
Rep. Lou Barletta (R-PA-11) has introduced a bill to defund sanctuary cities in the House, and Sen. Tom Cotton (R-AR) has one in the Senate.
​C​
ontact Congressman 
​Bucshon ​
to support
​(preferably 
co-sponsor
​!)​
Lou Barletta's bill in the House
​,​
and also contact Senators Coats and Donnelly to do the same for Tom Cotton's bill in the Senate. 
​It's time to e
xpose Democrat and Republican administrations in sanctuary cities that protect illegal aliens and delay/defer deportation and/or incarceration of criminal illegals! Protect AMERICAN citizens instead of citizens of
foreign
nations who are here
illegally
!
See details for both legislative efforts below...
​Thankfully, Indiana is clean - at least that I'm aware of... check this map for the rest (over 200):
It's criminal that the Obama DHS gives little attention to over 200 sanctuary cities that ignore immigration law, yet sues states like Arizona that try to enforce immigration law (despite the DHS and DOJ...)!
Tell our elected officials we expect them to uphold immigration law and this will help.
We don't
​need ​
more laws - we need to enforce the ones we already have!
​Contact Rep. Bucshon at: 812-465-6484 or 202-225-4636
Joe Donnelly: 812-425-5862 or 202-224-4814
Dan Coats: 812-465-6500 or 202-224-5263​
Thank you for all you do to restore our Constitution and protect our freedoms!